When Tony Whalley was made redundant in 1992 it understandably came as huge blow. At the time it felt like this decision would have a profoundly negative impact on his life as he struggled to find suitable work in the north west of England. However, little did he know that it would ultimately lead to him meeting the love of his life.
After the company he worked for in Liverpool closed down, struggling to find work he utilised his contacts around the world and found a job in Singapore through a former colleague who'd just started working for that company.
It was a new company – a cotton merchants – and Tony went to work there in September 1992 taking up the role of operations director. It was here he would first meet Mei Gay, affectionately known as Maggie, who joined the company in December of that year to become the managing director's assistant.
"On her first day she was told to sit with Tony and learn the cotton business, so she sat with me and never moved," Tony says.
Ever since then Tony and Maggie – who was one of five siblings born in Kowloon, Hong Kong – were together up until she passed away in Eden Valley Hospice in December of 2020.
From that meeting in 1992 love blossomed and outside of their long working hours they spent almost all their time together, regularly going for meals after work and taking part in activities organised by the company. They moved in together and both ended up leaving the company, Maggie after about 18 months and Tony after four years. They then married in 1997.
They continued to live in Singapore until 2005 when they moved to near Albany in western Australia where they built their own home and planned to spend their retirement. After a brief move back to Singapore in 2009, the couple returned to Australia where they remained until 2017.
"We bought a plot of land in Australia and we built a house, a fabulous house, overlooking the harbour and on the other side of the harbour was Albany," Tony continues.
"We were very happy; we had enough pension for us not to be too concerned. Albany is a laid-back place and it was an obvious place to retire to."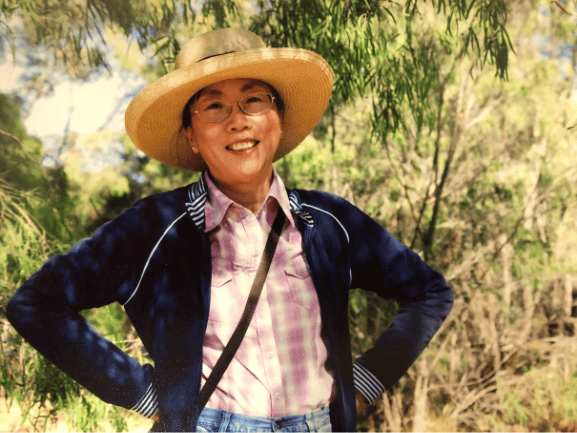 In 2017 they made the decision to move to the UK as their Australian visas were running out. Following a brief stay in London in Maggie's brother's apartment during their house hunting, the couple decided on a move to Cumbria and arrived in Clifton, near Penrith, on Christmas Day in 2017. With no prior connection to the county, it was Tony's previous experiences of walking in the Lakes which attracted them to the area, believing it would be a nice place to live out their years.
Tony says: "Those first two or three years were very pleasant, really relaxed, and then we got this bombshell.
"Maggie had pancreatic cancer, which was diagnosed on April 14th, 2020, she'd had a son and her son's birthday was that very day. Up until then we'd done what we intended to do, walk the hills. We didn't actually go out of Cumbria for any reason, except to visit my daughter in Christchurch, but by and large our life was to live around here and that's what we did and for Maggie to get used to living in England."
While there was a treatment, there wasn't a cure for Maggie's cancer. The treatment suggested would give her around a two or three-month extension on her life but would take around seven months to complete.
"After the first treatment, it was so traumatic for Maggie, and so painful, she decided it wasn't worth the chance of two or three months more," Tony adds.
"So, she stopped the treatment and from then onwards, for the first two or three months she seemed quite healthy, quite active but then she began to fade slowly. She didn't have much energy so we couldn't do very much, we couldn't do some of the walks we'd wanted to, she just wasn't able to."
Although this time was tough, Tony and Maggie were able to enjoy some of Cumbria's treats. A neighbour was the General Manager of the Samling Hotel, Windermere, who offered them a discounted weekend at the hotel which they used on their 23rd wedding anniversary in October. That trip would, though, be the last thing that Maggie did outside of her home due to her illness. 
As Maggie became more ill, their attentions turned to how she might be cared for as things became harder.
Tony, is in his early eighties, continues: "I had wanted her to stay at home, but she had said that maybe that wasn't going to be possible. Towards the middle of December, I had been trying to help her, trying to get to the toilet and one day on the way back to her bed we just both collapsed. I'd collapsed because I hadn't any energy left and she hadn't any energy either."
A call was made to Maggie's district nurse and Macmillan nurse who'd been supporting her care at home. They suggested Maggie should come into Eden Valley Hospice and with Tony in agreement, the next day she arrived and was given a room which had been turned around by staff at short notice. 
"I didn't know much about the hospice," Tony adds.
"But right from the start we felt as though the hospice was putting itself out for Maggie and bringing her in was so easy, there was no difficulty at all, even for me. When we came, Maggie came in an ambulance, I came in with one of our friends, when we got here the ambulance was already here, Maggie was already in her bed, it seemed so easy.
"It was very encouraging and made me feel as though Maggie was going to be well treated because that's how it appeared from the beginning. I didn't appreciate, and I don't think Maggie did either, that the end was quite so close. We were still talking about Christmas. When we came here on the first day, Maggie's friend and I sat with her in the room and Maggie didn't do an awful lot of talking by then, but she did do some, and Ann [her friend] and I both agreed afterwards that the atmosphere was so quiet and calm that was exactly what Maggie needed. Because up to that day it hadn't been calm, we'd had so many nurses coming through the house, it really had been a bit hectic.
"The way we were treated, it was so kind, so gentle, so understanding and so compassionate. It was the constant generosity of spirit of the staff that was so endearing, you just felt as though they all treated her as if she were their own daughter. And they treated me brilliantly as well, nothing was ever any trouble, it was very easy to live here. The first two nights I went home and then I stayed for the next couple of nights, they brought in an extra bed. It was so normal, life was just without any hassle.
"It was very difficult for me but I never felt as though the hospice staff were ever in between me and Maggie, yes they were there doing whatever was necessary for the two of us, and it was that very easy way of living that I appreciated more than anything. It made such a traumatic situation so easy to live through, I am still not over it by any means, I don't think I will ever get over it but it made Maggie's passing gentle."
Maggie sadly died on December 23rd, 2020 aged 68.
Tony had not stepped a foot back in the hospice building until late 2021 when he came in to make a donation in memory of Maggie, something he'd wanted to do for a long while.
"With the hospice offering such wonderful care, it would be quite wrong to close it down due to lack of funds," he adds.
"The treatment was so pleasant and they have the time to look after the patients and they take that time as well. It's the worst time in my life but I only have good memories of this place."